The foyer, also known as the entryway or vestibule, sets the tone for your home and provides the first impression to guests. A well-designed foyer not only creates a warm and inviting atmosphere but also serves as a functional space to greet visitors and organize your belongings. In this article, we will explore various foyer design ideas to help you transform this often-overlooked area into a stylish and welcoming entryway.
Make a Statement with Lighting
Start by considering the lighting in your foyer. A well-placed chandelier or pendant light can instantly add a touch of elegance and become a focal point in the space. Alternatively, you can opt for wall sconces or recessed lighting to create a warm and inviting ambiance.
Embrace Functional Storage
Keep your foyer clutter-free by incorporating functional storage solutions. Install a stylish console table with drawers or shelves to store keys, mail, and other everyday essentials. Consider adding a coat rack or hooks for hanging jackets, hats, and umbrellas. Baskets or bins can be used to neatly store shoes and accessories.
Mirror, Mirror on the Wall
Integrating a mirror in your foyer not only adds a decorative element but also serves a practical purpose. It helps create the illusion of a larger space and allows you to quickly check your appearance before heading out the door. Choose an eye-catching mirror in a stylish frame that complements the overall design of your foyer.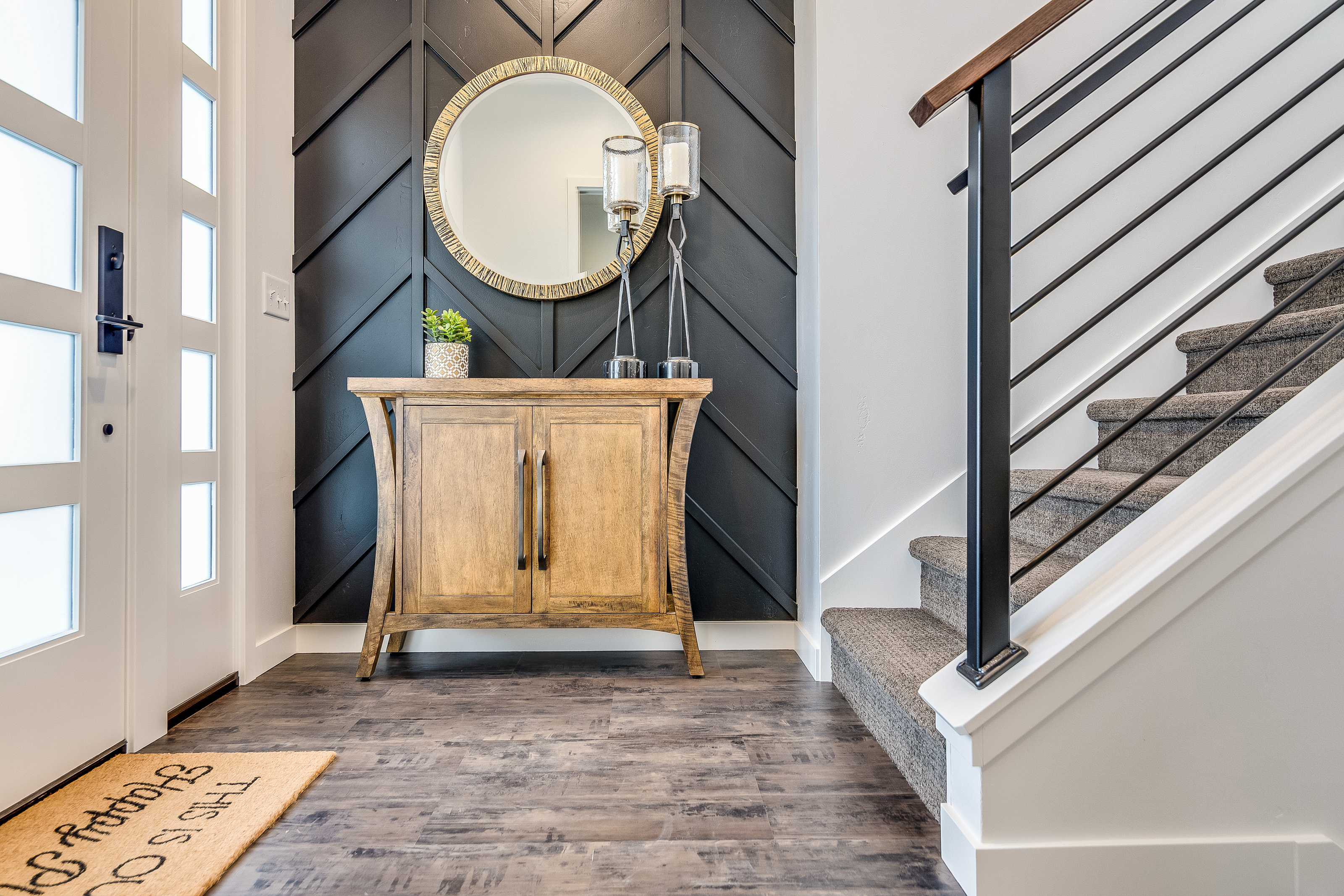 Enhance with Art and Decor
Inject personality and style into your foyer by displaying artwork, photographs, or decorative items on the walls. Choose pieces that reflect your taste and create a welcoming ambiance. Consider adding a small table or shelf to showcase decorative accessories such as vases, candles, or sculptures.
Play with Colors and Patterns
Experiment with colors and patterns to create visual interest in your foyer. Consider painting the walls in a bold hue or using wallpaper with a unique pattern to make a statement. If you prefer a more subdued look, opt for neutral tones and introduce pops of color through accessories like rugs, pillows, or artwork.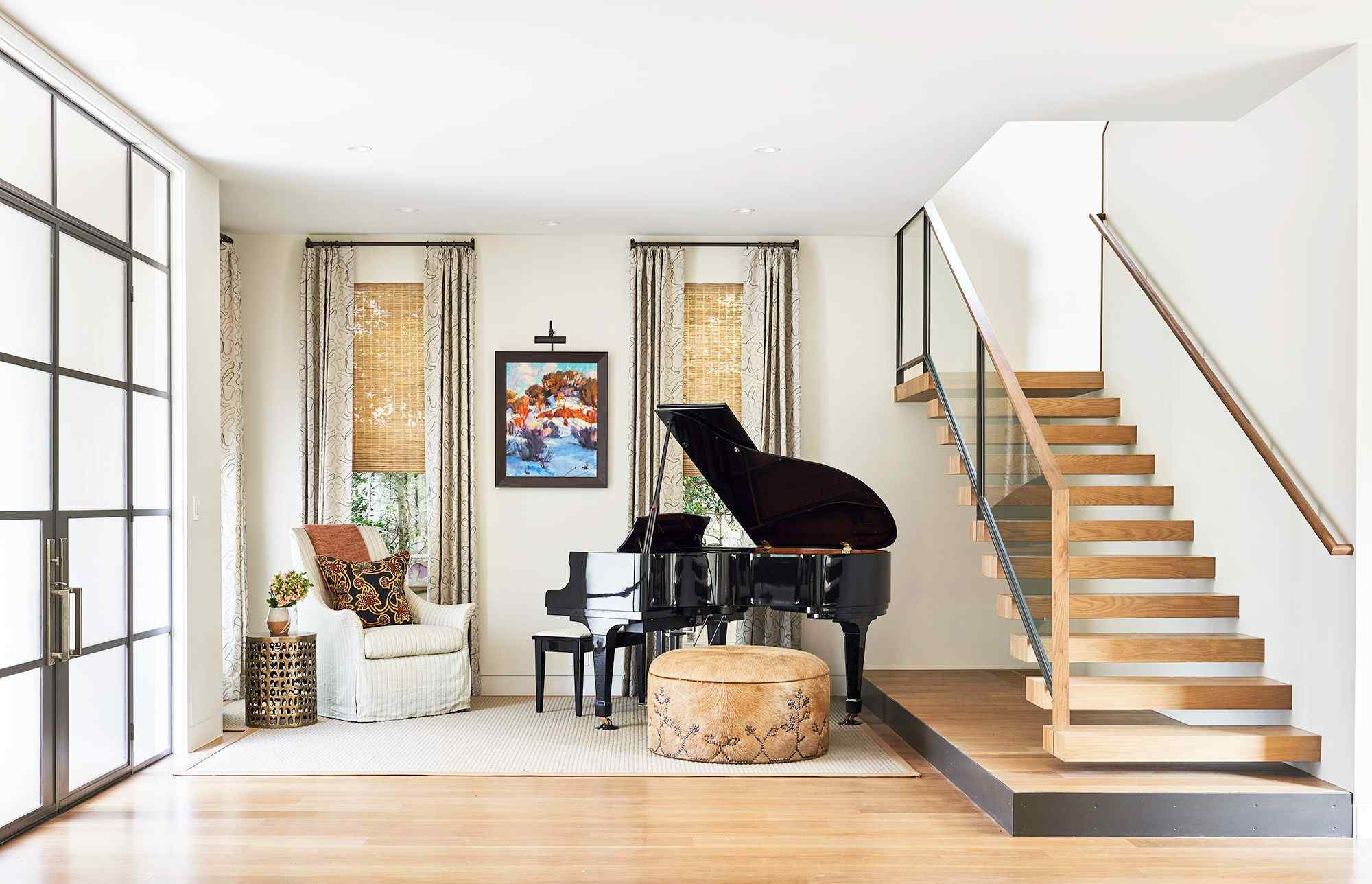 Flooring that Makes an Impression
Selecting the right flooring is crucial in foyer design. Durable materials such as ceramic tiles, hardwood, or natural stone are not only visually appealing but also practical for high-traffic areas. Add a rug or runner to add warmth, texture, and a touch of personal style.
Welcome with Greenery
Introduce some greenery into your foyer with potted plants or a vibrant floral arrangement. Plants not only freshen the air but also add a sense of nature and tranquility to the space. Choose low-maintenance plants that thrive in indoor environments.
Functional Seating
If space allows, consider incorporating seating in your foyer. A small bench or a stylish chair provides a convenient spot for putting on or taking off shoes and offers a welcoming gesture to guests.
A well-designed foyer sets the stage for your home and makes a lasting impression on visitors. By incorporating these foyer design ideas, you can create an entryway that is not only visually stunning but also functional and welcoming. Pay attention to lighting, storage solutions, decorative elements, color schemes, and the overall layout to transform your foyer into a space that reflects your personal style and sets a positive tone for the rest of your home.