A pool house is a fantastic addition to any property with a swimming pool. It provides a convenient and stylish space for changing, relaxing, and entertaining by the poolside. In this article, we will explore some pool house design ideas that can enhance the functionality and aesthetics of your outdoor space.
Functional Layout
When designing a pool house, it's important to consider its functionality. Divide the space into different zones, such as a changing area, bathroom, storage, and a lounge or entertainment area. A well-designed layout ensures that each area serves its purpose efficiently and makes the pool house a functional and practical space.
Seamless Indoor-Outdoor Connection
To create a harmonious flow between the pool house and the pool area, consider incorporating large windows, sliding glass doors, or folding glass walls. This allows natural light to flood the interior and provides easy access to the outdoor space. It also enhances the visual connection between the pool and the pool house, making it feel like a cohesive and integrated part of your outdoor oasis.
Stylish and Durable Materials
Choose materials that are not only aesthetically pleasing but also durable and suitable for the poolside environment. Opt for weather-resistant materials such as natural stone, porcelain tiles, or composite decking for the flooring. Use waterproof and easy-to-clean surfaces for countertops and vanities. Consider incorporating materials that complement the overall style of your home and outdoor space.
Ample Storage
A pool house should have sufficient storage to keep pool accessories, towels, and other essentials organized. Built-in cabinets, shelves, and hooks can help keep the space clutter-free. Include a designated area for storing pool equipment such as pool noodles, inflatables, and cleaning supplies. Adequate storage ensures that everything is easily accessible and helps maintain a tidy pool house.
Outdoor Entertaining Space
A pool house can double as a space for outdoor entertaining. Consider incorporating a kitchenette or a wet bar with a mini-fridge, sink, and countertop space for food and drinks. Install a grill or a barbecue station nearby to make outdoor cooking and dining more convenient. Provide comfortable seating options such as lounge chairs, outdoor sofas, or dining sets to create a welcoming space for relaxation and socializing.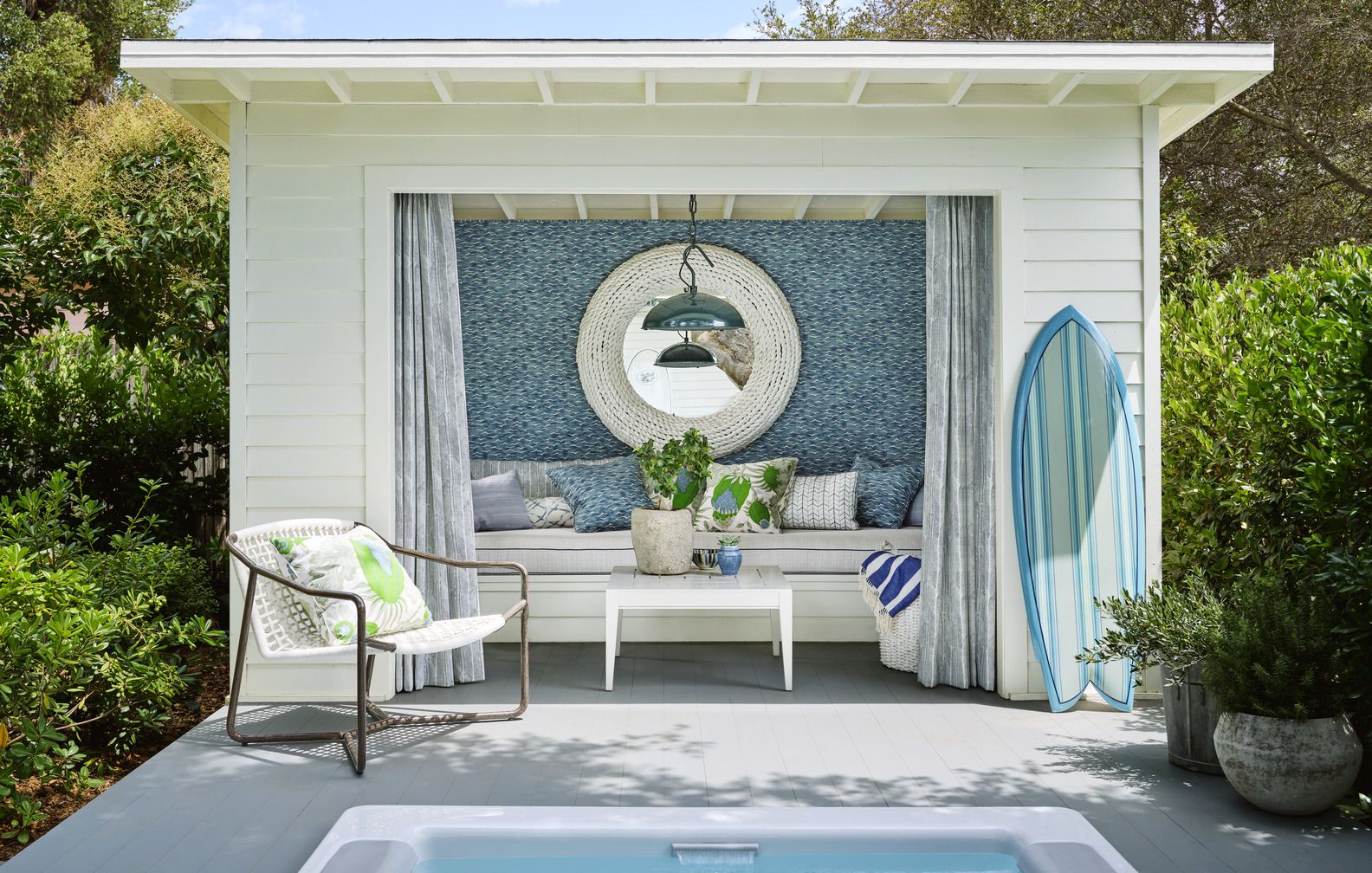 Shade and Privacy
Incorporate features that provide shade and privacy in and around the pool house. Consider adding a pergola, retractable awnings, or a covered patio area to shield the space from direct sunlight and provide respite on hot days. Use privacy screens, landscaping, or fencing to create a sense of seclusion and ensure a private and intimate atmosphere.
Enhance the Ambiance
To create a welcoming and inviting atmosphere, pay attention to the lighting and decor. Use a combination of ambient, task, and accent lighting to set the mood and highlight focal points. Incorporate comfortable outdoor furniture, vibrant cushions, and colorful accessories to add pops of color and personality to the space.
Pool house designs offer a multitude of possibilities for creating a functional and stylish space by the pool. Whether it's a simple and compact structure or a more elaborate design with various amenities, the key is to prioritize functionality, durability, and aesthetics. With careful planning and thoughtful design choices, you can create a pool house that enhances your outdoor living experience and complements the beauty of your pool area.