Farmhouse interior design has gained immense popularity in recent years for its timeless appeal and cozy aesthetic. Inspired by the rustic charm of country homes and the simplicity of rural living, farmhouse style creates a warm and inviting atmosphere in any space. Whether you live in a traditional farmhouse or a modern city apartment, you can infuse your home with the rustic elegance and comforting ambiance of farmhouse interior design. Here's a closer look at this popular design style.
Colors and Materials
Farmhouse interiors typically feature a neutral color palette with soft, muted tones. Whites, creams, beiges, and warm grays form the foundation of the color scheme, creating a soothing backdrop for the space. Natural materials are key to farmhouse design, with wood being a prominent feature. Exposed beams, reclaimed wood furniture, and hardwood floors add warmth and character to the space. Other materials commonly used include stone, brick, and wrought iron.
Furniture and Decor
Farmhouse furniture is characterized by its sturdy and functional nature. Pieces are often made from solid wood with simple, clean lines. Oversized and comfortable seating, such as plush sofas and upholstered armchairs, create an inviting atmosphere. Vintage and antique furniture pieces blend seamlessly with more contemporary elements to create a charming mix of old and new. Decorative accents such as woven baskets, galvanized metal accessories, and distressed finishes add to the rustic charm.
Textiles and Patterns
Soft and cozy textiles are essential in farmhouse design. Natural fabrics like linen, cotton, and burlap are commonly used for curtains, bedding, and upholstery. Layering different textures, such as chunky knit blankets, woven rugs, and embroidered pillows, adds depth and visual interest to the space. Patterns often found in farmhouse interiors include gingham, ticking stripes, and floral prints, adding a touch of country charm.
Farmhouse Kitchen
The kitchen is often the heart of a farmhouse-style home. Farmhouse kitchens are characterized by their practicality and rustic beauty. Elements such as farmhouse sinks, open shelving, and vintage-inspired appliances contribute to the authentic feel. Natural wood cabinets, stone countertops, and subway tile backsplashes are commonly used to create a timeless look.
Cozy Accents
Creating a cozy and inviting atmosphere is an important aspect of farmhouse design. Soft lighting, such as pendant lights and vintage-inspired lamps, helps create a warm ambiance. Adding elements like a brick fireplace, a cozy reading nook with a plaid armchair, or a window seat with plush cushions enhances the comfort factor. The use of natural materials, such as woven baskets, fresh flowers, and potted plants, brings a touch of nature indoors.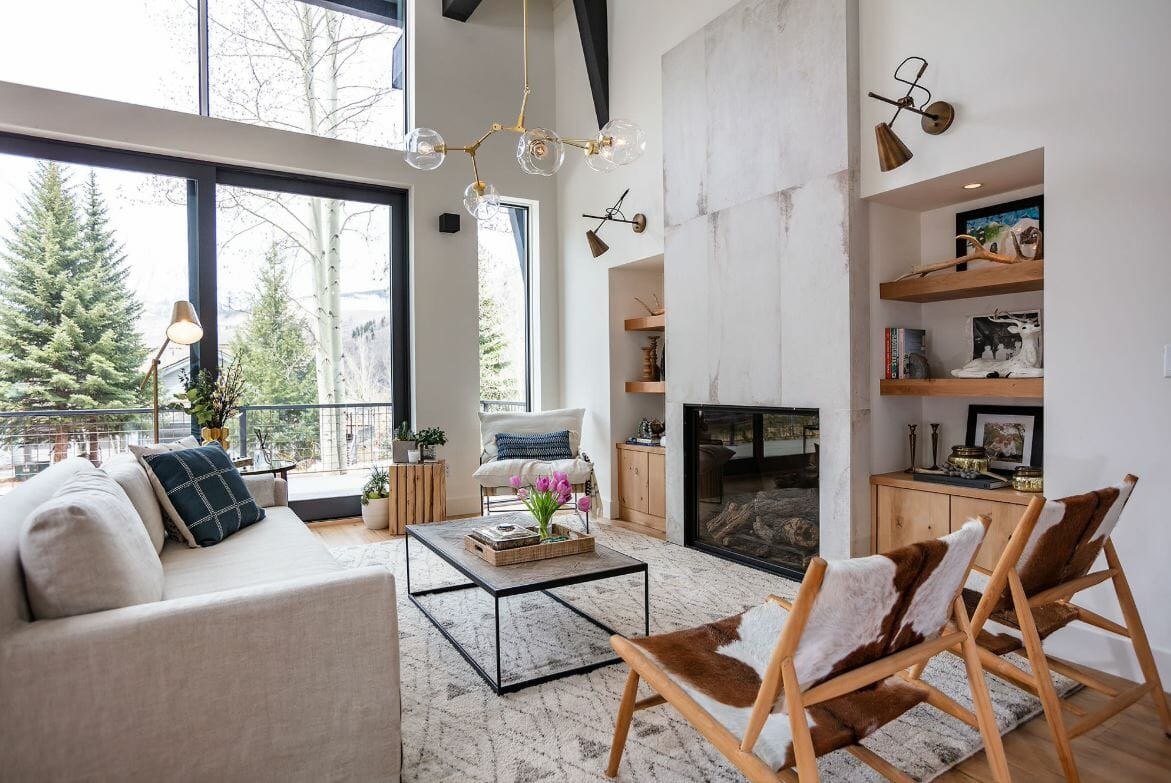 Farmhouse interior design offers a blend of rustic simplicity, vintage charm, and relaxed elegance. By incorporating natural materials, neutral colors, and cozy elements, you can create a welcoming and timeless space that reflects the warmth and coziness of country living. Whether you live in the countryside or in the heart of the city, farmhouse design can transform your home into a haven of comfort and style.