Cottage kitchens exude warmth, charm, and a rustic appeal that makes them a favorite among homeowners seeking a cozy and inviting space. Inspired by the quaint cottages found in the countryside, these kitchens combine vintage elements with modern functionality, creating a perfect balance between old-world charm and contemporary convenience. Whether you live in a traditional cottage or a city apartment, incorporating cottage kitchen ideas can transform your cooking space into a delightful and timeless retreat. Here are some inspiring ideas to create your own charming cottage kitchen:
Natural Materials
Embrace the beauty of natural materials like wood, stone, and brick to add a rustic touch to your kitchen. Exposed ceiling beams or wooden cabinets can infuse the space with a cozy and cottage-like ambiance.
Soft Color Palette
Cottage kitchens often feature soft and soothing color palettes. Opt for shades like pale blue, soft green, cream, or buttery yellow to evoke a sense of tranquility and nostalgia.
Farmhouse Sink
A classic farmhouse sink is a staple in cottage kitchens. Its deep basin and apron front not only offer practicality but also add to the overall charm of the space.
Open Shelving
Consider incorporating open shelving to display your charming collection of vintage dishes, glassware, and cookware. This creates an airy and inviting atmosphere while adding a touch of personality to the kitchen.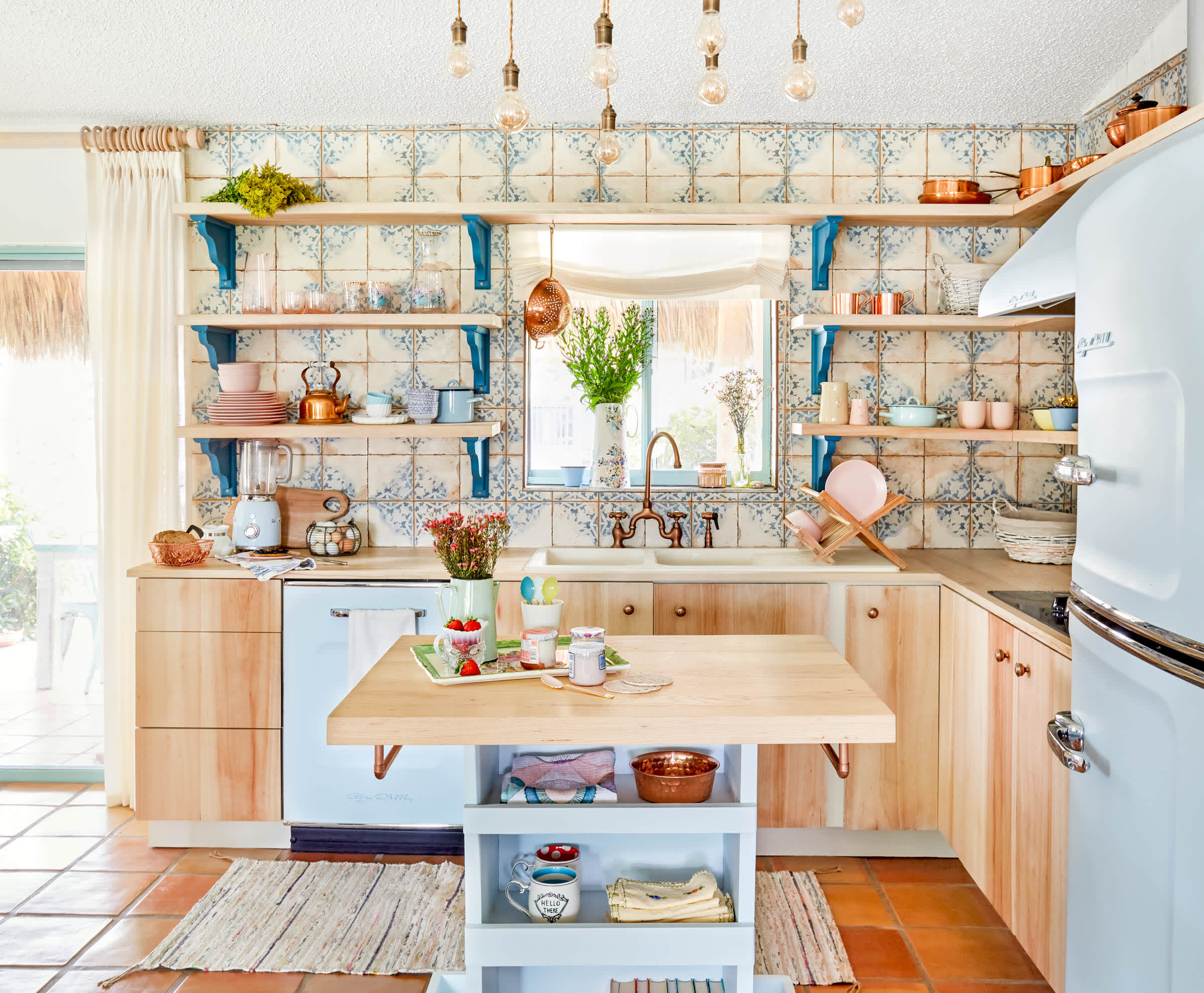 Vintage Appliances
Antique or retro-style appliances can be the focal point of your cottage kitchen. Look for vintage-inspired refrigerators, stoves, and other appliances that complement the overall theme.
Floral Patterns
Introduce floral patterns through curtains, upholstery, or even backsplash tiles. Floral motifs bring a sense of whimsy and femininity to the space, enhancing the cottage-style appeal.
Beadboard Paneling
Installing beadboard paneling on the walls or as a backsplash can add texture and a cottage-inspired look to your kitchen.
Cozy Seating Nook
If space allows, create a cozy seating nook or a small breakfast area with a built-in bench and a charming bistro table. It will become a favorite spot for morning coffee and relaxation.
Vintage Accents
Incorporate vintage accents such as old-fashioned lighting fixtures, antique door handles, or salvaged architectural elements to enhance the overall charm of the kitchen.
Wicker Baskets and Pot Racks
Use wicker baskets to organize fruits, vegetables, and kitchen essentials, adding a touch of country charm. Consider installing a pot rack to display your cookware, creating a practical and decorative element.
Cottage-Inspired Backsplash
Choose a backsplash that complements the cottage style, such as subway tiles, mosaic patterns, or hand-painted ceramic tiles.
Fresh Flowers and Greenery
Add a vase of fresh flowers or a potted plant to bring nature's beauty into your cottage kitchen. It adds a touch of liveliness and freshness to the space.
In conclusion, cottage kitchen ideas focus on creating a warm and nostalgic space that celebrates the simplicity and comfort of country living. By combining vintage elements, soft colors, and natural materials, you can design a kitchen that radiates charm and makes cooking a delightful experience. Whether you live in a countryside cottage or an urban dwelling, incorporating these ideas can help you achieve the enchanting allure of a cottage-style kitchen.